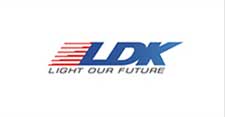 Established in 2005 in China, LDK Solar is a leading producer of solar wafers in terms of capacity and a leading high-purity polysilicon and solar module manufacturer. The company has expanded its business to meet the solar industry's requirements for high-quality and low-cost solar materials and solutions. As a vertically integrated manufacturer and supplier of photovoltaic (PV) products, LDK Solar has more than 21,900 employees worldwide. The Company's headquarters and manufacturing facilities are located in Hi-Tech Industrial Park, Xin Yu City Jiang Xi Province in the People's Republic of China. LDK Solar maintains sales, marketing, and customer service offices throughout Asia, Europe and North America.
LDK Solar manufactures and markets multicrystalline and monocrystalline wafers to manufacturers of solar cells and modules. Solar wafers are the principal raw material used to produce solar cells, which are devices capable of converting sunlight into electricity. The company also markets solar materials, which include ingots, and chemicals (used to produce Polysilicon and solar wafers) as well as provides wafer processing services.
In 2009, LDK Solar expanded the scope of its vertical integration strategy to include sales of solar modules to developers, distributors and system integrators. LDK Solar acquired the crystalline module manufacturing plant of Best Solar in February 2010 to bring the manufacturing capability in-house.
As part of LDK Solar's vertical integration strategy, it constructed a polysilicon plant with two production facilities near its wafer production plants in Xinyu, China. The first facility has a planned installed annualized production capacity of 3,000 metric tons and the second facility has three separate 5,000 MT trains, for a planned 15,000 MT annualized production capacity. Combining the two polysilicon plants, LDK Solar expects to reach 18,000 MT capacity by the end of 2011.
Grid Connected Solar System.
How do they Work ?