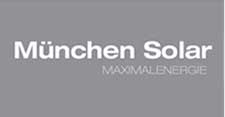 Innovative German Engineering
While the global Solar PV market was still emerging, we began operations in 2004 to supply and support the market with quality solar products.
Currently sitting at a worldwide nameplate module output capacity of 400MW, it was no easy process to evolve from a solar equipment trading company into a Solar PV module manufacturer.
However, this means all customers can utilize Munchen Solar warranted modules with 100% confidence and, with the guarantee from Innovative German Engineering. Quality is controlled through raw materials sourced solely from certified suppliers and automation during production for maximum quality assurance.
MUNCHEN SOLAR'S
GLOBAL MARKET
Munchen Solar has become one of the most innovative, reliable, quality and value focused companies in the entire sector, thanks to its focus on Solar PV modules and technology ranging from roof systems to full-scale power plants. With markets in Germany, Japan, China, Australia, SE Asia and the Americas, Munchen Solar is truly a global provider in the field of solar power.
Being an established player in the solar industry, our appreciation for attention to detail and uncompromising quality standards are well known.
Since incorporation, we have been certified accordance with ISO 9001 for quality management and ISO14001 for environmental management. Modules which come from our TUV inspected production lines are all certified to international standards of IEC 61730 and IEC 61215.
Grid Connected Solar System.
How do they Work ?