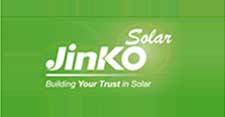 JinkoSolar Holding Co., Ltd. (NYSE Stock Code: JKS) is one of the few PV manufacturers that has 1.2 GW capacity in 2011 with a vertically integrated model, producing high quality crystalline ingots, wafers, cells, and mono- and multi- crystalline PV panels. Our full control over the production chain allows us to guarantee the highest quality for our products and a much more efficient cost structure. With these competitive advantages, we are able to pass benefits on to our customers around the world.
We employ more than 10,000 professionals with factories in Shangrao (Jiangxi) and Haining (Zhejiang) covering more than 165 acres. Our global marketing center is located in the modern business area of Pudong, Shanghai. We started expanding our international presence by establishing European representative offices in Munich, Switzerland, Bologna and Montepellier, a US office in San Francisco and logistics warehouses in Europe.
We continuously introduce advanced production equipment, including NPC technology from Japan for fully-automated module manufacturing. Since our establishment, our products have been recognized by a number of international quality systems such as IEC, TÜV, UL, INMETRO, VDE, CE, ISO14001 and ISO9001. As one of the largest manufacturing bases for solar products, we also established a global R&D center in partnership with leading universities to engage in continuous technology innovation to high-power best-matched solar solutions for customers.
For every member of our staff, solar energy is not just a business. It is also a means of contributing to a greener tomorrow through persistent efforts and passion. "We build your trust in the sun" is our core value. We will continuously innovate and provide the highest quality PV products and services to deliver the best solar energy solutions for our partners.
Grid Connected Solar System.
How do they Work ?